Erik Niel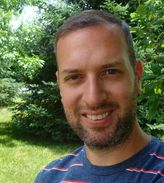 "Taking the book down off of the shelf..."
Inspiration can come at the most random of times. As a writer, Erik Niel has been inspired throughout his entire life to develop story lines, create characters, and jot down thoughts in poet scribbles. But until recently, most of those entries stayed "on the shelf." 
Erik spent most of his youth in writing, but mainly in writing music. With a deep interest in musicians and their lyrics, Erik would write songs similar in style to the artists he listened to, and often challenged himself to explore different elements within music creation. From the age of 12 to the present, Erik has written over 300 songs, most of them written between early high school and college graduation.
On the side, Erik explored creative writing, developing simple plot short stories and insightful poetry. In college, Erik majored in Professional Writing, taking courses in both Public Relations and Creative Writing. A deeper connection with the pen formed, and Erik found that he was writing more consistently. Journaling became a daily occurrence and Erik found a creative outlet. 
More recently, Erik has been inspired to write stories for children. Reading with his daughter, Sophia, and to his son, Parker, has opened the gate for Erik into creating many possibilities of stories for children about friendship. Erik's first release, Pig and Penguin's Party Planning Problems, tells the story of two friends who learn to overcome differences through working together. As new ideas emerge, Erik is looking forward to writing and illustrating many more children's books in the future.
Erik and his wife, Jacqui, currently work as houseparents at the Milton Hershey School in Hershey, Pennsylvania. As Houseparents, Erik and Jacqui live with and care for elementary aged students bewteen 2nd and 4th grade. Visit www.mhs-pa.org for more information about houseparenting and the mission of Milton Hershey School.