Release Date: November 28, 2021
Hippo cheerfully helps at the hospital, delivering healthy meals and snacks to her friends who are receiving care. But as she meets with each one of them, her heart starts to feel heavy with sadness for her friends that are hurting. This tale of empathy and compassion helps to teach readers about how we connect with one another, and how to process our own feelings of relating to others who are struggling. 
Released December 11, 2015
A story about a girl and her Nana, When You See A Dragonfly illustrates the unique connection between grandparents and their grandchildren. In the story, the girl loves to spend time with her Nana, but when she is away from her, Nana reminds the child that "Even though you can't see me, With you I will be, When you see a dragonfly, You'll think of me."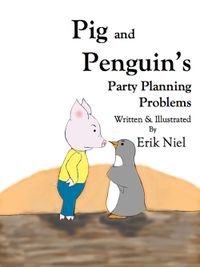 Pig and Penguin's Party Planning Problems
Released June 9, 2015
Pig and Penguin are pals that want to have a party for their friends. But when Pig wants to host a proper luncheon, Penguin protests and insists on a pirate-themed party. The competition is on, but who will throw the best party ever? Creative alliteration and colorful illustrations tell the story of Pig and Penguin, and how their friendship ultimately overcomes their differences.